Canada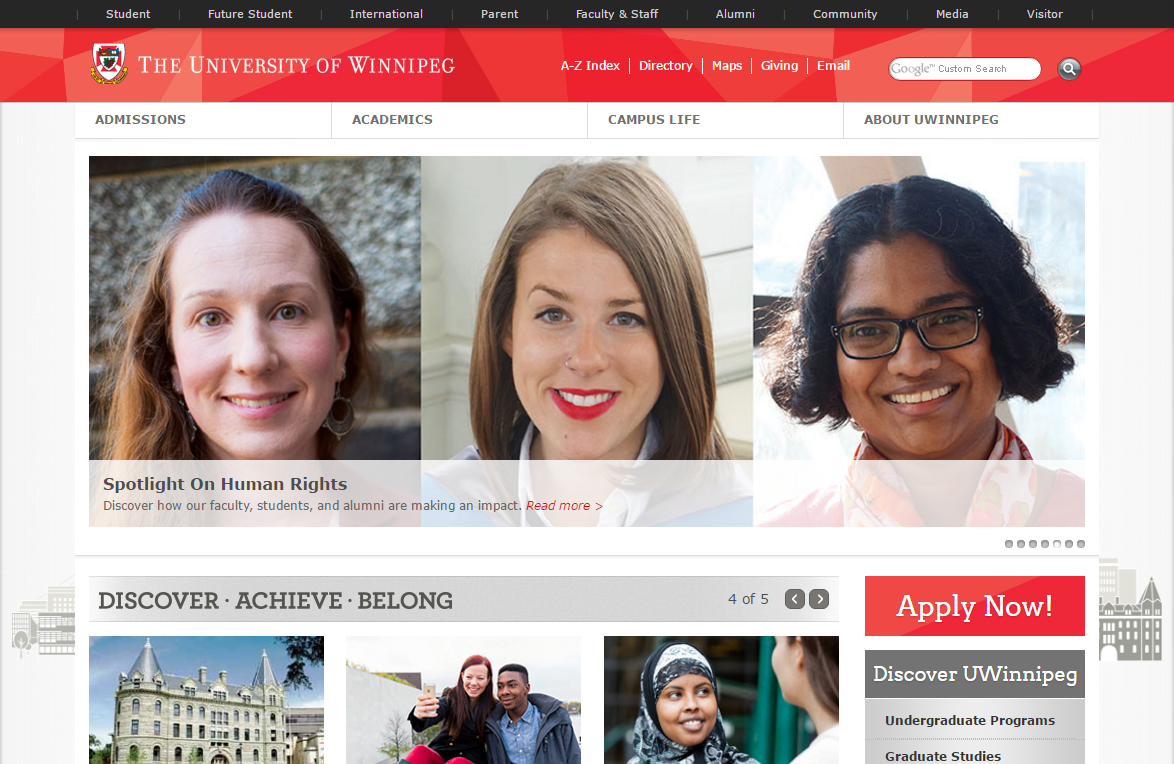 Region : Manitoba
City : Winnipeg
Web site : www.uwinnipeg.ca
The University of Winnipeg (UWinnipeg) is a public university in Winnipeg, Manitoba, Canada that offers undergraduate faculties of art, business and economics, education, science and kinesiology and applied health as well as graduate programs. UWinnipeg's founding colleges were Manitoba College and Wesley College, which merged to form United College in 1938. The University of Winnipeg was established in 1967 when United College received its charter. The governance was modeled on the provincial University of Toronto Act of 1906 which established a bicameral system of university government consisting of a senate (faculty), responsible for academic policy, and a board of governors (citizens) exercising exclusive control over financial policy and having formal authority in all other matters. The president, appointed by the board, was a link between the bodies to perform institutional leadership.
UWinnipeg's current President and Vice-Chancellor is Annette Trimbee (August 2014), succeeding Lloyd Axworthy who served from 2004 to 2014.
Maclean's magazine and the Globe and Mail newspaper consistently rank the university in the top fifteen of all Canadian universities whose primary focus is undergraduate education in the category of student satisfaction. In 2013 the U of W ranked 13th out of 19 primarily undergraduate institutions.
The U of W was the first university in Canada to ban the sale of plastic bottled water on campus but still sells vitamin waters.
Students and faculty
Students at the University are represented by the University of Winnipeg Students' Association.CKUW is the student radio station based out of the University of Winnipeg. The Uniter is the campus newspaper.The Janitors are represented by AESES http://aeses.ca/).
Faculties
Faculty of Arts
Faculty of Business & Economics
Faculty of Education
Gupta Faculty of Kinesiology and Applied Health
Faculty of Science
Faculty of Graduate Studies
Colleges
Global College
Menno Simons College
Richardson College for the Environment
Centres and Institutes
Centre for Academic Writing (CAW)
Centre for Distributed / Distance Learning (CDDL)
Centre for Forest Interdisciplinary Research (C-FIR)
Centre for Innovation in Teaching & Learning (CITL)
Centre for Learning and Secular Society (CLASS)
Centre for Research in Young People's Texts and Cultures (CRYTC)
Centre for Rupert's Land Studies
Centre for Sustainable Transportation
Institute of Urban Studies
Institute for Women's and Gender Studies
Aboriginal Students
The University of Winnipeg offers several programs and services to Aboriginal people. It is the first University to mandate that all students take a course in aboriginal history as part of their degree. The University of Winnipeg offers a Bachelor of Arts in Indigenous Studies with a master's degree in Indigenous Governance. The University of Winnipeg provides special first-year bridging programs for Aboriginal students. Academic counsellors, tutors, and Aboriginal Elders are present on campus to provide academic and social supports. Through its Wii Chiiwaaknak Learning Centre, Eco-Kids Program and Eco-U Summer Camp services, the University of Winnipeg actively partners with Aboriginal communities. The University of Winnipeg is now offering the only master's degree in Development Practice with a focus on Indigenous Development in the world, joining a network of 22 prestigious universities globally with support from the MacArthur Foundation.
In 2012, the university named broadcaster Wab Kinew as its first Director of Aboriginal Inclusion,a position designed to oversee the expansion of culturally inclusive outreach efforts and program development in First Nations education.
The Collegiate
The Collegiate at The University of Winnipeg is an on-site high school that offers Grades 9, 10, 11, and 12 programs.It is an independent school and a division of The University of Winnipeg.It offers a seamless admission process to accelerate admission into first year university for Collegiate Students.As of 2012, there are 353 students at The Collegiate.
The Collegiate was created within Wesley College in 1873. At the time it was the only secondary school in Manitoba.
Sources : Wikipedia, www.uwinnipeg.ca