Canada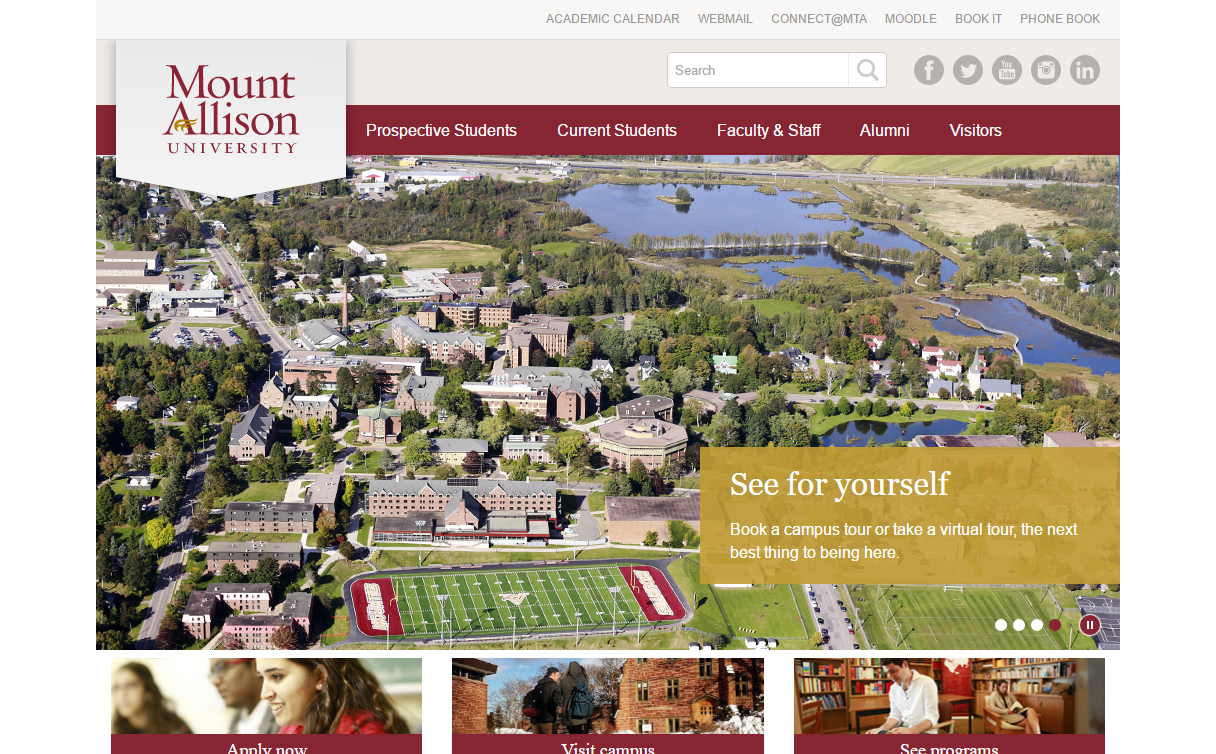 Region : New Brunswick
City : Sackville
Web site : www.mta.ca
Mount Allison University (also Mount A or MtA) is a primarily undergraduate Canadian liberal arts and science university located in Sackville, New Brunswick. It has been ranked the top undergraduate university in the country for 18 of the last 25 years by Maclean's magazine. With a 17:1 student-to-faculty ratio, the average first-year class size is 65 and upper-year classes average 14 students.
Mount Allison University was the first university in the British Empire to award a baccalaureate to a woman (Grace Annie Lockhart, B.Sc, 1875). Mount Allison graduates have been awarded a total of 53 Rhodes Scholarships. American chemist James B. Sumner, who later won Nobel Prize in Chemistry, used to work at Mount Allison as a teaching fellow.Mount Allison also has one of the largest endowments per student in Canada.
Academics
The mission statement of Mount Allison University promotes "the creation and dissemination of knowledge in a community of higher learning, centred on the undergraduate student and delivered in an intimate and harmonious environment". Mount Allison currently offers bachelor's degrees in Arts, Science, Commerce, Fine Arts, and Music, as well as master's degrees in biology and chemistry and biochemistry, and certificates in bilingualism. A Bachelor's degree in Science with a major in Aviation has been developed in conjunction with the Moncton Flight College.
Mount Allison has one of the best records of Rhodes Scholars per capita in Canada — 53 all together, and 12 in the past 14 years.
In 2014, 76 per cent of the student body received an entrance scholarship.
The University's enrolment is approximately 2,300 students.
Faculties, departments, and programs
Faculty of Arts (BA, BMus, BFA)

Classics
English
Fine Arts
History
Modern Languages & Literatures
Music
Philosophy
Psychology
Religious Studies
American Studies
Canadian Studies
Drama

Faculty of Social Sciences (BA, BComm)

Anthropology
Commerce
Economics
Geography & Environment
Politics & International Relations
Sociology
Environmental Studies
PPE (Philosophy, Political Science, and Economics)

Faculty of Science (BSc, MSc)

Biology
Chemistry & Biochemistry
Mathematics & Computer Science
Physics
Psychology
Aviation (in conjunction with Moncton Flight College)
Environmental Science
Cognitive Science
Sources : Wikipedia, www.mta.ca