Canada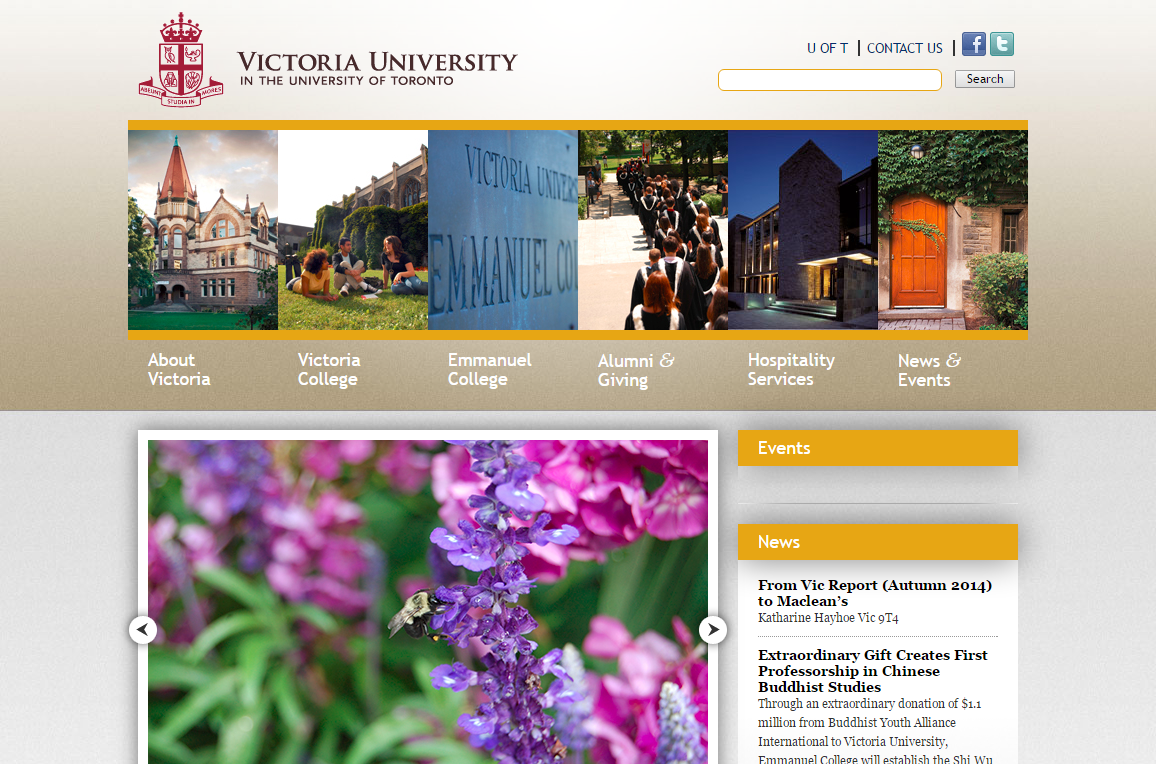 Region : Ontario
City : Toronto
Web site : www.vicu.utoronto.ca
Victoria University is a college of the University of Toronto, founded in 1836 and named for Queen Victoria. It is commonly called Victoria College, informally Vic, after the original academic component that now forms its undergraduate division. Since 1928, Victoria College has retained secular studies in the liberal arts and sciences while Emmanuel College has functioned as its postgraduate theological college.
Victoria is situated in the northeastern part of the university campus, adjacent to St. Michael's College and Queen's Park. Among its residential halls is Annesley Hall, a National Historic Site of Canada. A major centre for Reformation and Renaissance studies, Victoria is home to international scholarly projects and holdings devoted to pre-Puritan English drama and the works of Desiderius Erasmus.
Academics and organization
Victoria is presently the wealthiest college at the University of Toronto by net assets. In part this has been because of alumni donations, but much of the growth is specifically due to the rapidly increasing value of Victoria's large real estate holdings in downtown Toronto. Today, the College has a securities portfolio worth approximately $78 million and a real estate portfolio worth $80 million.
The E.J. Pratt Library is the main library of Victoria College. The Centre for Reformation and Renaissance Studies holdings fall into three main categories: rare books, most of which were printed before 1700 (currently about 4,000 titles), modern books (currently about 25,000 volumes), and microforms (several thousand microfiches and reels). The library contains primary and secondary materials relating to virtually every aspect of the Renaissance and Reformation. In particular, it houses the Erasmus collection, one of the richest resources in North America for the study of works written or edited by the great Dutchhumanist Desiderius Erasmus of Rotterdam. The collection holds a substantial number of pre-1700 editions of his works, including the Novum Instrumentum of 1516.
Centre for Reformation and Renaissance Studies (CRRS) is a research and teaching centre in Victoria University devoted to the study of the period from approximately 1350 to 1700. The CRRS supervises an undergraduate program in Renaissance Studies, organizes lectures and seminars, and maintains an active series of publications. The centre also offers undergraduate, graduate, and postdoctoral fellowships. The Records of Early English Drama (REED), also known as the Centre for Research in Early English Drama, is an international scholarly project that looks at the broader context from which the great drama of Shakespeare and his contemporaries grew. REED examines the historical manuscripts that provide external evidence of drama, secular music, and other communal entertainment and ceremony from the Middle Ages until 1642, when the Puritans closed the London theatres.
Founded in 1975, REED has for the last 31 years worked to locate, transcribe, and edit all surviving documentary evidence of drama, minstrelsy, and public ceremonial in England before 1642. As well, two collections go beyond the original boundaries of our research to cover other parts of the British Isles, RED (Records of Early Drama): Scotland and Wales. Twenty-five collections of records have been completed since the first REED collection, York, appeared in 1979; the most recent one, REED: Lincolnshire, comes out in 2009. Over 30 editors are at work on future collections.
REED's internal governance is provided by an Executive Board of senior scholars in early drama and related fields, with advisors and collections editors drawn from Canada, the United States, Australia, and the United Kingdom. For many years, REED also published a twice-yearly newsletter (REEDN), now superseded by a refereed journal, Early Theatre (ET/REED). The co-directors of REED are Alexandra Johnston and Sally-Beth MacLean.
Sources : Wikipedia, www.vicu.utoronto.ca