Canada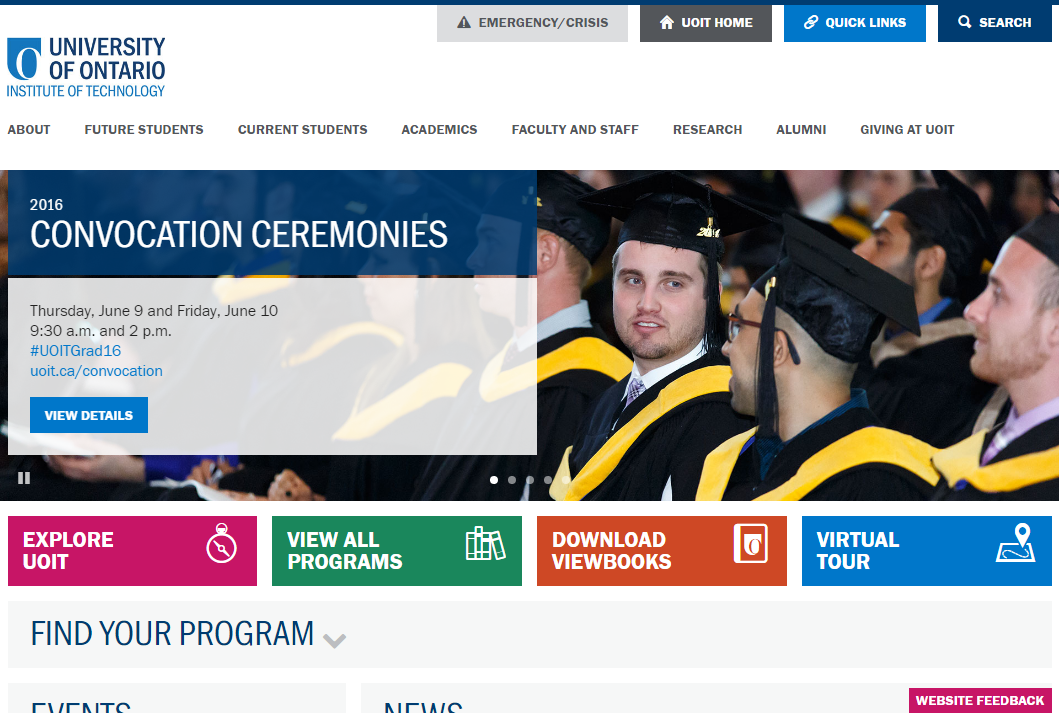 Region : Ontario
City : Oshawa
Web site : www.uoit.ca
The University of Ontario Institute of Technology (UOIT) is a public research university located in Oshawa, Ontario, Canada. The university shares its campus with Durham College. The university was founded in 2002 and accepted its first students in 2003, making it one of Canada's newest universities. The enabling legislation is the University of Ontario Institute of Technology Act, 2002. All undergraduate programs require students to lease a laptop PC from the university as a condition of enrollment, making it Ontario's only laptop-based university. Faculty members also encourage students to use their laptops to complete assignments, perform laboratory research and interact with faculty during lectures. UOIT offers a range of undergraduate programs, and graduate programs in Science, Engineering, Health and Information Technology. The UOIT campus is approximately 400 acres (160 ha) in the northern part of Oshawa.
Programs
UOIT has seven faculties, each offering several programs:
Faculty of Business and Information Technology
Faculty of Social Sciences and Humanities
Faculty of Education
Faculty of Energy Systems and Nuclear Science
Faculty of Engineering and Applied Science
Faculty of Health Sciences
Faculty of Science
Research
Faculty members are involved in research in a variety of areas. These include:
Multimedia Based Digital Authentication Schemes
Statistical and Array Processing
Wireless Communications and Signal Processing
Satellite Communications
Pervasive Computing
Sensor and Information Networks
Computer Forensics and Network Security
Web Modelling and Optimization
Computer Networking
Networked and Distributed Control Systems
Haptics and Virtual Reality (Laboratory for Advanced User Interfaces and Virtual Reality)
Medical and Mobile Robotics
Automatic/Intelligent Sensing and Control
Power Engineering
Vehicle dynamics
Fuel cells and hydrogen
Automotive aerodynamics
Noise, vibrations and harshness
Automotive materials and manufacturing
Chassis design
Automotive software and system modeling
Alternative fuels
Hybrid vehicles
Automotive systems
Dynamics, vibration and noise
Engineering design
Energy, thermodynamics, heat transfer and fluid mechanics
Manufacturing and materials
Mechanics of solids and structures
Robotics, automation and controls
Semiconductor physics and nanotechnology
Solar cells
Lasers
Information Visualization
Human-Computer Interaction
Game Science
Automotive Centre of Excellence
General Motors of Canada Automotive Centre of Excellence
The Automotive Centre of Excellence (ACE) is the first testing and research centre of its kind in Canada, and in many respects the world. It is owned by UOIT and is located on the university's north campus location.
ACE is a multi-purpose centre with an area of approximately 16,300 square metres. It is divided into two distinct sections: a core research facility (CRF) and an integrated research and training facility (IRTF).
The CRF offers full-size chambers that allow for full climatic, structural durability and life cycle testing including one of the largest and most sophisticated climatic wind tunnels on the planet. In this test chamber, wind speeds can exceed 240 kilometres per hour, temperatures range from -40 to +60 °C and relative humidity ranges from 5 to 95 per cent. The climatic wind tunnel has a unique variable nozzle that can optimize the airflow from 7 to 13 square metres (and larger) allowing for an unprecedented range of vehicle and test property sizes. Coupled with this feature is a large flexible chassis dynamometer that is integrated into an 11.5-metre turntable. Now, for the first time anywhere, vehicles and test properties can be turned into the airstream under full operating conditions to facilitate crosswind development. The large open chamber has a readily reconfigurable solar array that will replicate the effects of the sun and is hydrogen-capable, allowing for alternative fuels and fuel cell development.
The IRTF spans five floors with space dedicated for research, education and training. It has offices, laboratories, conference rooms and common work areas that are available to rent. This facility will foster an environment for collaboration and interaction between industry, researchers and students.
ACE is an independent test facility that is commercially available to customers who are seeking to bring their ideas into a proof of concept and ready for market. In addition to conventional automotive applications, ACE is suitable for testing alternative fuel, hybrid and electric vehicles. It is large enough to accommodate trucks, tandem drive systems, full coach buses, light rail transit, aerospace, military and agricultural applications, wind turbines and solar panels. ACE could be used to train military personnel, rescue crews or competitive athletes, to carry out performance testing of outdoor survival gear. ACE can assist the movie industry or test products that are subject to severe wind, humidity, snow, icing or desert heat.
ACE is available to rent by manufacturers, start-up companies and researchers. Clients can rent the entire facility or specific chambers at an hourly rate.
ACE was developed in partnership with UOIT, General Motors of Canada, the Government of Ontario, the Government of Canada and the Partners for the Advancement of Collaborative Engineering Education (PACE). The total cost of the facility is approximately $100 million.
Energy Systems and Nuclear Science Research Centre
The Energy Systems and Nuclear Science Research Centre (ERC) is a 9,290-square-metre facility that houses UOIT's unique-in-Canada education programs and research in geothermal, hydraulic, hydrogen, natural gas, nuclear solar and wind energy technologies. The ERC enables research in clean and green energies and technologies, and promotes Canada's entrepreneurial advantage through public-private research and commercialization partnerships.
Undergraduate, graduate and second-career training enrolment of energy scientists and nuclear engineers is projected to climb from 364 students in 2009-2010 to approximately 650 in 2012. These programs are complemented by Energy and Environmental options in UOIT's Mechanical Engineering, Electrical Engineering and Science programs.
The ERC is the result of a joint $45.4-million investment from the federal and provincial governments as part of the Knowledge Infrastructure Program. Full ERC operations commenced with the 2011-2012 academic year;
The construction phase of the ERC November 2009 through August 2011 created 225 direct and 315 spinoff jobs;
The ERC is home to UOIT's Faculty of Energy Systems and Nuclear Science (FESNS). In addition to providing administrative space and offices for staff and faculty, the ERC features a network of teaching and research labs of various configurations, which support the Cameco Research Chair in Nuclear Fuels and UOIT's membership in the University Network of Excellence in Nuclear Engineering;
The four-storey ERC has a glass-covered atrium, a 72-seat lecture theatre, three 50-seat classrooms, two 30-seat tutorial rooms with flexible seating, 12 labs, 11 student-study (breakout) rooms, dedicated working stations for graduate students and offices for faculty and administration;
The ERC has indoor connections to the adjacent Faculty of Business and Information Technology building on the second, third and fourth floors;
Teaching space within the ERC is equipped with multimedia capabilities that provide opportunities to expand the current roster of programs, allowing for future growth in new energy-related programs, further development of part-time distance learning opportunities and the expansion of the online degree completion option now offered;
UOIT's Bachelor of Engineering in Nuclear Engineering program is the first accredited program of its kind in Canada;
UOIT's Nuclear Engineering program features the most extensive nuclear power plant computer simulation of any engineering program in Ontario;
UOIT is located in Durham Region, which is home to 10 nuclear generating units;
FESNS professors Dr. Igor Pioro and Dr. Glenn Harvel are working on creating a fuel-channel conceptual design for a Generation IV Supercritical Water-Cooled Reactor, which will increase the efficiency of current technologies and lower energy production costs; and
FESNS has a close relationship with industry partners in provincial, national and international programs including: Atomic Energy of Canada Limited; Bruce Power; Cameco Corporation; Canadian Nuclear Safety Commission; Ontario Power Generation; and SNC–Lavalin.
The tables on this website are converted with Div Table online tool. Please subscribe for an online HTML editor membership to stop adding promotional messages to your documents.
Sources : Wikipedia, www.uoit.ca